FOUR SEASON'S ADVENTURES
All types of fishing in numerous lakes with boat and motor rental available. Snowmobiling on groomed trails with snowmobile rental available. Excellent groomed cross-country and downhill skiing with rentals, shops and casino nearby. Excellent hunting for all types of game. The hiker can experience the forest areas with the abundance of animals and birds. Bring cameras to record the beauty of the area along with the experience of seeing the many birds and eagles soaring and the animals in their natural setting.
Fishing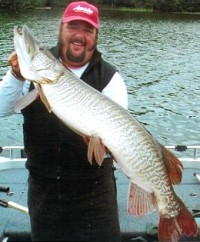 Over 500 names lakes and 2,000 miles of river and stream await the angler in the Ottawa National Forest. Access to the fishing waters can vary from a paved boat ramp and parking lot to an undeveloped trail. Generally, spring and early summer are the best times for lake fishing. Late summer is somewhat slower with fall fishing somewhere in between. Check a Michigan DNR Fishing Guide for seasons and regulations.
Fly Fishing – Brook Trout and Brown Trout are commonly found in the rivers of the Ottawa. You will also find opportunities to fish for Rainbow trout, Steelhead and Lake Trout; Salmon, Largemouth and Smallmouth Bass; and Walleye. The Watersmeet Visitor Center Staff can provide you with a complete list of streams and species that occur in each area.

Lake Fishing – Numerous opportunities for lake fishing may be found mostly located in the southern half of the Forest. A variety of lake sizes and depths support several fish species including Northern Pike, Walleye, Large and Smallmouth Bass, Musky, Trout, and a variety of panfish. The Watersmeet Visitor Center staff can provide you with a complete list of lakes, their depths, and the fish species found there.

Ice Fishing – Hunker down over a hole in the ice! The Watersmeet area offers fantastic ice fishing on the many lakes located in the area. There are numerous resorts, motels and private homes to rent for lodging. The lodging facilities often provide direct access to the lake.
Hunting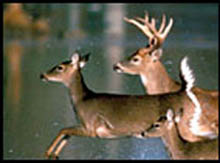 The Ottawa National Forest Offers hundreds of thousands acres for a variety of hunting opportunities ranging from small game to large animals. A valid Michigan State hunting license is required. Be sure to acquaint yourself of the State seasons, regulations and any other federal rules that may apply to a specific area you will be visiting.
Camping – Most campgrounds are open during hunting seasons; however, in the fall and winter services such as garbage pickup, road plowing and available well water are not provided. Generally, the Forest is open to dispersed camping except for administrative sites and posted recreation areas. Wherever you camp, be sure to leave your site clean and pack out all your trash.

Blinds – Hunting blinds may be used in the National Forest as long as they are consistent with the State of Michigan regulations. Portable tree stands may be used and must be identified with the hunters name and address. It is illegal for any part of the stand or steps to penetrate the tree camblum such as the use of nails or screw in steps. Portable ground blinds may be used but must be removed each day. You can also make a natural temporary blind out of dead and down logs or brush. All blinds must be removed or dismantled at the end of the hunting season. Consult the regulations for more specific blind information

Baiting – The State of Michigan currently allows baiting in the taking of deer and bear. Serious discussions about regulating baiting are ongoing. Plastic bags, sacks, bait boxes or other containers are considered litter and should be packed out. Consult the State regulations for the most current information on baiting.

Recreation Passenger Vehicles – Recreation passenger vehicles such as ATV's and snowmobiles are allowed in the Ottawa National Forest with some restrictions. It is advisable to ask the Watersmeet Visitor Center staff for a handout that lists the different types of vehicles and the allowed uses. Some roads and areas such as the three wildernesses are closed to mechanized and motorized travel.
ATVing and UTVing
The Watersmeet Chamber of Commerce invites you to visit our beautiful area for your next ATV/UTV trip. Our east/west trail connects with the Marenisco and Iron River trails. It's wide and in great shape since it serves as one of our winter snowmobile trails.
The Forest Service trails also cover the whole township of Watersmeet. Travel through our beautiful forests, over wooden bridges, and past all kinds of waters. Enjoy the colorful northwoods with its awesome scenery and abundance of wildlife. Many trails are not limited to 50″ wide vehicles.
County road shoulders can be legally driven on with ATVs to pick up the main trails and many of the fringe trails. Accomodations in our area range from small motels and a small historic hotel to a large casino hotel with 132 rooms. There are a number of resorts and private vacation homes on the Cisco Chain, Lac Vieux Desert, and Crooked Lake. With accommodations varying from small cabins for two to large homes with plenty of amenities for big groups, you'll be sure to find something to fit all your needs in Watersmeet. Camping is also available from primitive camping to a public campground. We have two ATV/snowmobile businesses here for sales and service who can help with all your needs. Restaurants, cafes, bars, gas stations, grocery and convenience stores, as well as a casino are right here to serve you as well.
A spring trip brings rushing waters from the winter thaws. As the woods awakens after a blanket of ten or more feet of annual snow, the new flora and fauna come alive. The trees are budding, rivers and streams are flowing, and the wildlife is everywhere to be seen.
During the summer, when there are more people around, trails still aren't busy. It's one of the joys of life in the northwoods. Trees and wild flowers are in full bloom, and it's a beautiful time to visit. Besides siteseeing, you might want to spend some time on one or more of the scenic lakes or rivers. Boating and fishing here are just a couple of the bonuses of planning an ATV trip here.
The trees start putting on their magnificent fall colors as early as later August and continue into October. It's a quieter time for the great northwoods, but it's also an absolutely awe-inspiring time to be in the Watersmeet area. The sites, the sounds, the smells and the quietness or the exhilaration of the area are all yours for the taking.
As fall turns into winter and snowmobiles replace ATVs on the trails, don't forget Watersmeet for some of the best snow and groomed trails anywhere.
Whenever you choose to travel here, you'll long remember the trails, the scenery, and the warm-hearted people in Watersmeet. You'll take home wonderful memories to relive for years to come. We hope you'll return time after time to enjoy our terrific ATV and snowmobile trails.
To download Michigan DNR maps, please visit www.michigan.gov/dnr. The Forest Service has three huge maps of ATV trails for our area, too. You may contact the Forest Service at 906-358-4551 or visit their website at www.fs.fed.us/r9/ottawa for additional information. The MI-Trale Western Upper Peninsula ORV maps are available at Headwaters Polaris and Rogers' Bar in Watersmeet.
Mountain Biking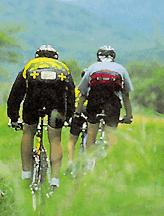 A wide variety of opportunities ranging from well maintained and signed loops to more challenging cross-country travel await the mountain bike enthusiasts. Besides wilderness and specifically designated hiker only trails, the entire Forest is open to mountain bikers.
Elcho Complex – Twenty-seven miles of the Elcho complex provides and exciting and challenging trip through a northern hardwood forest, over open gravel roads, through overgrown logging roads that crosses a few small streams, and around beaver dams. The trail is located in the northwest part of the Ottawa near the Porcupine Mountains Wilderness State Park.

Henry and Pomeroy Lake Complex – Nearly 100 miles of trails await your arrival at the Henry and Pomeroy Lake complex which is located just south of Marenisco. This marked trail system is mostly located on gravel roads. It offers several loop opportunities, passes by scenic overlooks, crosses rivers and streams, and offers direct access to two campgrounds.

Agonikak Trail – The Agonikak Mountain Bike Trail starts near the Watersmeet Visitor Center and travels 11 miles through the forest, south to a State wayside in Land O' Lakes. It is located mostly on brushed-out trails and right-of-ways.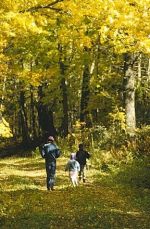 Hiking
Hiking trails in the Ottawa National Forest offer something to everyone. More than 196 miles of hiking and backpacking trails vary widely in character. Some trails provide short, easy walks to a point of interest such as waterfalls or historic sites. Cross-country travel is also another challenging opportunity that is offered
Canoeing and Kayaking
Over 500 lakes and 1,800 miles of streams await water travelers. Ottawa National Forest Lakes range from remote areas with difficult access to developed boat launches with parking areas. Sylvania Wilderness is a popular canoeing area; however, special rules, regulations and fees apply.
During spring run off, the rivers of the Ottawa flow fast and furious. Once quiet waters can become potentially dangerous torrents. In contrast, by the time summer arrives, some rivers may be so low that canoeing is nearly impossible. Several rivers generally have ample flow for canoeing throughout the year. The Forest Service Center Staff can provide information that details river conditions and available facilities.
Camping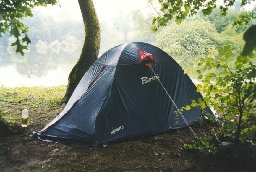 Twenty-seven developed campgrounds offer a wide spectrum of camping experiences. All are accessible by road and service both tent and trailer campers. Most campgrounds are located on lakes or streams and offer fishing, swimming, and other opportunities.
Nightly fees that usually range from $5 to $8 is charged at most campgrounds. some campgrounds are available free of charge. The Forest Department Visitor Center Staff can provide information that contains fee schedules, site information, location, and development level of each area.
Most campgrounds are scheduled to open by May 15th annually with some exceptions. Most campgrounds close their service season after Labor Day although some remain open into the fall to accommodate hunters. During the fall season fees usually are not assessed and services such as garbage pick up and well water are not PROVIDED.
A group camping facility is provided at Marion Lake five miles east of Watersmeet. It accommodated up to 100 people. A nightly group fee is charged and reservations can be make through the Ottawa National Forest Visitor Center (906) 358-4724.
With a few minor exception the public lands within the Ottawa National Forest are open to back-country camping. Campers should be prepared to pack in water supply and pack out trash. Camp stoves are recommended over the use of camp fires. A good map is recommended as some of the land within the Forest is privately owned.
Horseback Riding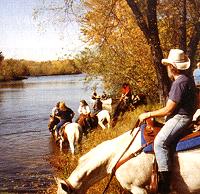 One million acres of the Ottawa provides a wide variety of equestrian opportunities ranging from well maintained and signed roads to cross-country travel. Besides Sylvania Wilderness and hiker only trails, the forest is open for horse travel. There are areas suitable for camping with horses; however, horse camping is not permitted in developed campgrounds. Because of limited request and use, the Ottawa National Forest does not have specific printed materials or developed areas for riders.
The best way to plan for a trip in the Forest is to decide on a general geographic location and contact the nearest Forest Service Office to discuss options and recommended areas.
Designated equestrian trails await your arrival on the Chequamegon/Nicolet National Forest located in Wisconsin just south of the Ottawa. Two of the trails are located in the Eagle River District of the Nicolet. Trails and a designated horse campground are available in the Chequamegon.
WINTER ACTIVITIES
Cross-Country Skiing
The Ottawa national Forest is host to a variety of cross-country skiing opportunities. There are over 90 miles of ski trails located throughout the area with over half of the miles groomed. Trails range in difficulty from beginner to expert.
Downhill Skiing
Winter sport enthusiasts are attracted to the Upper Peninsula for its abundance of downhill ski areas. In the Watersmeet area downhill ski areas are located in Ironwood, Iron River, Ontonagon and Iron Mountain.
Snowshoeing
Picture yourself on a snowshoe adventure breaking trail in the peaceful, serene woods. Snowshoers do not require trails and have the freedom to travel anywhere.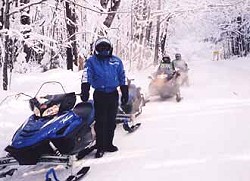 Snowmobiling
Winter snowmobiling excitement runs rampant throughout our area. Hundreds of lakes and acres of state and national forest lands provide a winter wonderland for enthusiastic riders.
Watersmeet and Land O' Lakes, located on the border of Wisconsin and Michigan's Upper Peninsula provides an excellent home base for your winter excursions. Trails to the north connect with the serene trail network of the Upper Peninsula. Corridor 6 guides riders across the northern section at the eastern border, through Land O'Lakes as it continues on to Presque Isle.
Watersmeet is the gateway to snowmobiling in the Upper Peninsula with access to Minnesota, Lower Michigan and Wisconsin. The Upper Peninsula of Michigan has a reputation for an extensive groomed snowmobile trail network, exciting terrain, and an abundance of snow. In the entire State of Michigan there are over 5,800 miles of snowmobile trails located throughout six state Forest, three National Forests and many acres of privately owned lands. About 230 miles are located in the Ottawa National Forest. Yearly Michigan trail permits are required.
Our area offers the pure enthusiast miles of groomed trails in the north in Upper Michigan and short trips to various Wisconsin towns to the south, east, and west. Gas, rentals, sales, and meals, are within minutes of each lodging facility The snowmobiler can ride from any lodging location without the need of the vehicle that brought them.
Annual snow fall generally between 100 and 250 inches 35 miles of groomed trails that interconnect.
For snowmobile trail conditions in the Watersmeet area please call 906-358-9961.
POINTS OF INTEREST
Ottawa National Forest Visitor Center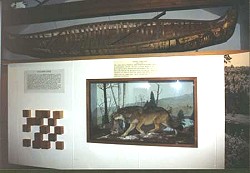 Located at the intersection of Highways 45 and 2 in the Upper Peninsula of Michigan at Watersmeet is the Ottawa National Forest Visitor Center. The Center is home to the Ottawa Interpretive Association. This Visitor Center is maintained by the USDA Forest Service. Personnel at the Center stand ready to assist visitors with information about this area and the entire Ottawa National Forest.
Through sales of environmental books and related items and through membership, the Ottawa Interpretive Association (OIA) generates funds. After operating expenses these funds are returned to the Ottawa National Forest in the form of grants. The grant applicants must show that their projects will directly benefit the public on the Ottawa National Forest.
Membership in the OIA is $10.00 per year and entitles the member to 10% off all retail items and a quarterly newsletter. E-mail OIA at oia@portup.com for more information or to sign up as a member!
A typical Upper Peninsula Timber Wolf is mounted and on display in the Ottawa National Forest Visitor Center exhibit room. The canoe overhead was found at the Sylvania Wilderness Area.
Maps, videos, books and other environmental items are available at the Ottawa National Forest Visitor Center.
Sylvania Wilderness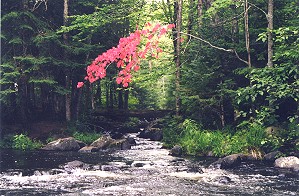 Crystal clear waters surrounded by virgin old growth forests are the trademarks of the pristine Sylvania Wilderness. Sylvania is open to recreationists year round and special area regulations apply. Between May 15 and September 30 fees and permits are required for your vehicle and for camping.
Wilderness camp sites can be reached by water or by trails. Camp sites have bare areas for your tent, an in ground fire ring, and a wilderness latrine.
34 pristine lakes dot the Sylvania Wilderness. About half of them are connected by portage routes.
26 miles of hiking and portage trails wind through old growth forests and along lake shores. Wilderness trails are unmarked so be sure to take along a map and compass.
Developed Recreation Area – The developed recreation area is located just north of the Wilderness. Here you will find auto access camping, a day use building with hot showers, picnic areas and natural sandy beaches.

Winter Visits – Sylvania Wilderness in the winter can be the definition of true solitude. Abundant opportunities await winter campers, snowshoers and skiers. Trails are not marked and ungroomed so be sure to take along a map and compass.

History – In the early 1900's a group of 6 prominent mining and steel industrialists purchased large tracts of land just west of Watersmeet and formed the Sylvania Club. These men, who had made their fortunes exploiting the environment, treasured and preserved Sylvania's forests, lakes and wildlife for the intangible wealth of its pristine qualities. Sylvania was unique and rare in that it had escaped the era of logging and the wave of fires that impacted most of the area around it. Club membership changed over the years and the Forest Service purchased the tract of land in 1967 from P.C. Christainson, the last surviving owner, and from the estate of Lawrence Fisher. For the first time, Sylvania was open to the public. All buildings were removed and trails that once accommodated carriages and motor vehicles now serve as hiking trails and portages between lakes.
The Cisco Chain of Lakes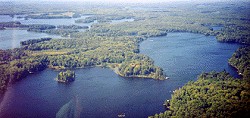 Visitors will truly enjoy their vacations on the famous Cisco Chain of fiteen lakes with over 271 miles of scenic shoreline. Nestled in our colorful forests and abounding in wildlife, it is one of the largest chain of lakes in the world. Two undeveloped lakes on the chain, remind us of days past when solitude prevailed.
Excellent fishing for walleye, musky, northern pike, bass, and panfish provide long days of lazy enjoyment. The state record silver musky came from Thousand Island Lake. A day boating on the Cisco Chain can take you to both Michigan and Wisconsin.
Resort facilities range from modest to deluxe to satisfy the most discriminating visitor in all seasons. Side trips to the Porcupine Mountains and Lake of the Clouds, Bond and Agate Falls, six major ski hills, and many other scenic areas are about an hour's drive away. It's a true sportman's paradise.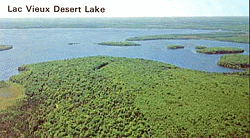 Lac Vieux Desert
As the headwaters of the Wisconsin River and home to panfish, walleye, bass and muskie, Lac Vieux Desert provides anglers and families with over 4200 acres of pristine boundary water enjoyment. Resorts range from American plan to housekeeping cottages. The lake boast the world record Tiger Muskie!
McCormick Wilderness
The rugged McCormick Wilderness has much to offer outdoor enthusiasts who prefer to recreate in a remote, undeveloped, wooded setting. The area covers nearly 17,000 acres and offers seventeen lakes, waterfalls on the Yellow Dog River, northern hardwoods and lowland conifer forests, and rocky outcrops resembling landforms found on the Canadian Shield.
Camping, hiking, canoeing – Access to the interior of McCormick Wilderness is limited. A three mile foot trail will lead you to White Deer Lake. Less traveled trails include the North Country National Scenic Trail, Baraga Lake Trail, and Yellow Dog Falls trail. Camping is allowed anywhere within the wilderness. Visitors are encouraged to learn and practice Leave No Trace camping techniques.

Wildlife – Animals that live in the area are typical of a northern lake States Forest; however, visitors are much more likely to see a moose here than any other place on the Ottawa due to a reintroduction program that occurred near the wilderness in the mid 1980's.

Winter Visits – Due to McCormick's high elevations, snow lasts well into spring and accumulates to some of the deeper depths in the Upper Peninsula. Many opportunities await for winter campers, snowshoers and skiers. The only plowed access point is off county road 607, the White Deer Lake Trailhead.

History – McCormick Wilderness was once used as a vacation retreat by three generations of McCormicks, descendants of Cyrus H. Mccormick, inventor of the reaping machine. The last owner, Gordon McCormick, donated the land to the Forest Service upon his death in 1967. Because of its unique, unspoiled setting, it became part of the National Wilderness Preservation System through the 1987 Michigan Wilderness Act.
Sturgeon River Gorge Wilderness
The 14,000 acre Sturgeon River Gorge Wilderness lies in Baraga and Houghton Counties, in the Ottawa National Forest. The major scenic attractions of this wilderness are the Sturgeon River, its rapids and falls, and the Gorge itself.
Gorge – The Sturgeon Gorge is a distinctive landform and a unique geologic feature. The Sturgeon River, a National Wild and Scenic River, formed the steep 300 foot deep Gorge that spans up to 1 mile wide. Overlooks on the Gorge's eastern rim offer stunning panoramas, especially during the peak fall color season.

Falls – A parking lot is provided at the trailhead. A short, moderately strenuous trail leads down into the gorge to the volcanic rock outcrop that forms the spectacular 22 foot high Sturgeon Falls.

Kayaking and Canoeing – Experience Kayakers and white water canoeists will find the Sturgeon River challenging. The river can also be dangerous and is not well suited to beginners. If you are planning a river visit, call ahead for water level information as travelling down the river is normally only feasible in the spring or during other high water periods.

Trails and Camping – There are few established trails in the Sturgeon River Gorge Wilderness. Access to the interior is mainly by cross-country navigation or on the Sturgeon River. You will not find established camp sites but dispersed camping is allowed. Visitors are encouraged to learn and practice Leave No Trace camping techniques.
Mystery Light
The "LIGHT" has defied explanation since it was first sighted many years ago, although theories abound.
To observe the phenomenon, one must drive north from Watersmeet on U.S. 45 for 4 miles toward the neighboring village of Paulding, and take Robbins Pond Road for a short distance west – an unimproved rural lane once part of a military road authorized by Abraham Lincoln during the Civil War in anticipation of a British attack through Canada.
Surrounded by dense woods and from the summit of nearby hills, the mysterious light can be observed almost every night once darkness has descended on the northern wilderness.
It appears to rise slowly out of the forest and then hovers low in the sky for varying intervals – ranging from a couple of minutes to over a quarter of an hour. Often described as looking like a "bright star" it first seems to be a campfire ember, reaching an intense reddish glow, then becoming a haze and finally receding to a mere spark before disappearing into the night.
Explanations vary from fanciful to factual. Some say it's the spirit of a long dead mail carrier ambushed by Indians over a century ago; others insist it is the ghost of an engineer killed in a nearby railroad accident in years gone by. One woman thinks it's a mystical sign of religious significance.
In the meantime, "THE MYSTERY LIGHT" continues to baffle, intrigue and mystify the visitor.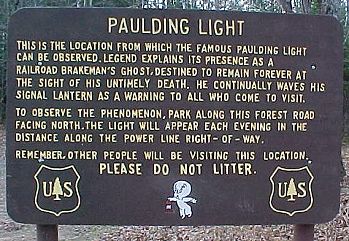 Directions to the Paulding Light – Take State Highway 45 north out of Watersmeet Michigan. About 5 miles out of Watersmeet, the road will begin a slow bend to the right. Watch for a road on the left side of 45 named "Robbins Pond Road" (old state hwy 45). There is usually a brown park sign right before. Turn left on Robbins Pond Road. Follow the gravel road down about 3/8 mile until you see the dead end barricade. During the summer months, you will also see the sign put up by the National Park Service.
Ottawa Waterfalls
The Ottawa National Forest is known as "Waterfall Country". There are trails to many of Ottawa's waterfalls while others require map and compass to view. Waterfalls are beautiful all seasons. The ice formations created in winter are spectacular while the flora and fauna during the summer add special touches. The greater flow of water in spring after snow melt and in the fall after a rainy period makes the falls themselves most impressive. The following list is a sample to help get you started on enjoying "Waterfall Country".
Agate Falls – Access is from Highway 28 through the roadside park just to the south of the falls. You will find a trail leading under the road and down to the falls. This trail is not developed with steps like Bond Falls trail so it can get slippery after a rain. It is not long, but is moderately difficult in grade. Just over the falls you will see an old railroad trestle which adds historic interest.

Ajibikoka Falls – Access is by following Forest Road 5120 along the west side of Brush Lake for about a half mile and then taking a compass reading and hiking to the northeast. It is not particularly difficult terrain, but you should have a good map and compass. This is quite a long falls, about 40 feet, and the area surrounding it contains quartz outcroppings. This is moderately difficult due to the distance and the orienteering skills needed.

Black River Harbor Area – There are also many falls on the Black River as it drops in elevation through the rock before it empties into Lake Superior at Black River Harbor. Access is via County Road 513, also called the Black River Road. You will find a newly developed accessible trail to some of these falls, and other developed trails (with steps) to some of the others. The North Country Hiking Trail will allow you to view most of the major falls. The degree of difficulty varies here with some falls being easy to access and with others more difficult.

Photo 1 | Photo 2 | Photo 3 | Photo 4 | Photo 5

Black River Harbor Area Conglomerate Falls – At Conglomerate falls the river separates into two sections falling 40 feet around an island of conglomerate rock which gives the falls its name.

Black River Harbor Area Gorge Falls – Gorge Falls is a spectacular site as the force of the river runs through a narrow 30 foot width over a 24 foot drop.

Black River Harbor Area Rainbow Falls – The 40 feet of fall water creates a mist that sometimes produces a rainbow which gives this falls its name.

Black River Harbor Area Potawatomi Falls – Paved barrier-free access provides a unique and easy way to view one of our areas most beautiful waterfalls that has a 130 foot width and a 30 foot drop.

Black River Harbor Area Sandstone Falls – Although Sandstone Falls is not a large falls it is well worth visiting because of its varied rock formations and hollows that the river has carved out of sandstone and conglomerate rock over the centuries.

Bond Falls – Access is east of Highway 45 from Paulding on Bond Falls Road. This well marked parking area and trail leads you down and around one of the most popular Upper Peninsula waterfalls. Managed by the U.P. Power Company, a developed trail is maintained with steps and bridges across the river at the base of the falls. This is one fall that is beautiful year long. A variety of plants can be viewed throughout the summer but watch for the poison ivy which grows along the upper portions of the trail next to the river.

Cascade Falls – Access is off County Road 400, north of Highway 28. Follow the signs to a parking area at the trail head. There are two trails that will lead you to and from the falls. The main trail is the easiest with only moderate changes in elevation. The Bluff Trail leaves and rejoins the main trail and can be quite challenging but will provide you with some outstanding vistas. The main trail is moderately difficult due to its length and some "ups and downs". This waterfall is well named as it "Cascades" over the rocks.

Duppy Falls – Access is off Forest Highway 16, just south of the Iron-Houghton County line, via a short unmarked road to the west. This is the site of an old slate quarry. The trail to the river has been created by people going trout fishing. Follow that unmarked trail toward the west and walk upstream to the falls when you reach the river. In the open field at the edge of the old quarry deer can often be seen and the sun loving wildflowers of open areas are common.

Jumbo Falls – Access is south of Kenton along Forest Road 4580 to the first cross road. Then go east about 1/2 mile, turn south and follow the road to a gravel pit where you can park. From there you will find a trail that follows the river upstream a short distance to the falls. The trail passes through some old growth hemlock and is quite level. It is a scenic woods trail and the water of the Jumbo River is crystal clear.

Photo 1 | Photo 2 | Photo 3 | Photo 4 | Photo 5 | Photo 6

Kakabika Falls – Access is north Highway 2 along County Road 527. There is a small parking area and a short trail to the falls. This fall is actually a series of "S" turns as the river drops in elevation. The trail is not long and not too difficult. There is some good berry picking near here as well as a spot to fish.

Meximine Falls – Access is northeast of Watersmeet via old US Highway 2 to Forest Road 4500 to the Burned Dam Forest Service Campground. From this small campground you will be able to hear the falls and a well-used trail takes you a very short distance to view them.

Photo of Meximine – Burned Dam

O Kun-de-Kun Falls – Access is from a parking lot along Highway 45 that provides entrance to the North Country Hiking Trail. Hike to the east a little over 1 mile through Aspen and young mixed hardwoods over gently rolling terrain. The trail can be muddy after a rain. You may see deer along this trail and also bear! More likely you will see frogs, squirrels and dragon flies. This is moderately difficult due to the distance.

Presque Isle Falls – There are several falls on the Presque Isle River. Those most visited are within the Porcupine Mountains Wilderness State Park at the east entrance. Follow County Road 519 to a parking lot near a short trail to view Manabezho Falls very near the mouth of the river where it empties into Lake Superior.

Sturgeon Falls – Access is off Forest Road 2270 on the east edge of the Sturgeon River Gorge Wilderness. A new trail has been developed to correct some erosion problems and winds down into the Gorge and along the river. This is a beautiful area where you might experience the song of a Hermit Thrush or see shade tolerant wildflowers on the forest floor. This is a moderately difficult trail due mainly to its length and changes in grade.

Wildcat Falls – Access is off County Line Lake Road just north of County Road 206 about 1-1/2 miles. If you begin hiking from a hill just to the south of where the creek crosses the road and go west (using map and compass), you will come to the Scott and Howe Creek. If the creek is running north south, then follow it downstream to the falls. The creek makes a rather sharp turn to the east right at the base of the falls so if it is flowing east when you get to it, walk upstream. There was an old trail marked with blue paint blazes but these have all but disappeared over the years. Orienteering skills will help find this beautiful little waterfall. The distance you will have to hike is only 1/4 to 1/2 mile.

Yondota Falls – Access is from County Road 523, north of Highway 2. You will come to a parking lot near the bridge that crosses the river. The main trail is down the north side of the river but you can hike down either side. This is a series of falls so be sure you walk far enough to see them all. The trail is not long but does drop in elevation along the river so the uphill return hike may make this a moderately difficult trail.