Watersmeet Michigan welcomes you to year-round vacation enjoyment.  From Watersmeet, the Ontonagon River flows north into Lake Superior.  The Wisconsin River flows south into the Mississippi River, and the Paint River flows east into Lake Michigan. This is "where the waters meet"!
This "Water Wonderland" includes 302 lakes and 241 miles of trout streams.  Excellent resort and motel accommodations provide both anglers and families the opportunity for summer fun.
Enjoy our spring-fed lakes, meandering streams and rivers, and even our secluded waterfalls. You can experience the forest areas with the abundance of animals and birds. Bring cameras to record the beauty of the area along with the experience of seeing the many birds, fantastic loons, and eagles soaring as well as all the wildlife animals in their natural setting.
The famous "Cisco Chain" with its 15 lakes and over 271 miles of shoreline and "Lac Vieux Desert" with its 4,200 acres of boundary water and headwaters of the Wisconsin River, are home to many fish species including panfish, crappie, walleye, bass, northern pike and muskie.  In fact, our area waters boast both state and world records for tiger musky!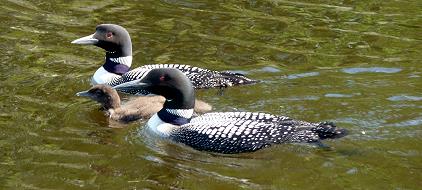 Nature has smiled on this area of Michigan's Upper Peninsula with its beautiful forests of spruce, balsam, maple, birch, and aspen. Your stay here will be highlighted by sightings of white tail deer, American bald eagles, loons, black, bear, coyotes, and even illusive timber wolves and moose.
While visiting, explore the 21,000 acres of virgin forest in the Sylvania Wilderness Area which is within 1 million-plus acres of the Ottawa National Forest.  State and Federal lands provide excellent small game, waterfowl, and trophy deer hunting, making our area a top choice for bow and gun hunters.
As a "Winter Wonderland", Watersmeet is gateway to the northfs Big Snow Country.  We have professionally groomed cross country and snowmobile trails, along with fine winter lodging and dining.  No matter what your tastes, whether they be outdoor sports and wildlife, family vacations, or solitude.
Just as the waters flow in every direction from Watersmeet, so do our snowmobile and ATV trails.  Enjoy our fantastic groomed trails linking with hundreds of miles of trails throughout the Upper Peninsula and Wisconsin. We also have excellent groomed cross-country and downhill skiing trails with rentals and shops nearby.
Rich in natural, man-made, and historical attractions as well as a variety of great accommodations, Watersmeet is your gateway to a wonderful and relaxing vacation.  We look forward to your visit with us. You will want to return time after time.
---
The brilliant skies and moonlight are the best here! Enjoy year-round fishing and fill your senses with the beauty of the northwoods in the spring and summer, the fantastic fall colors, and the best winter scenery anywhere. It's not too early to plan your get-away for your snowmobile, ski, or ice fishing trip! We border with upper Wisconsin…You don't have to go far to enjoy the beauty and wilderness that is here in Watersmeet!
We have great accomodations that can fill the needs of all…A cottage or home on a lake, camp in the woods or on a lake in your tent or in your rv, stay in a large or small hotel or a ma and pa motel. We have something for everyone here!
Thank you for visiting our website. We look forward to your visit to the Watersmeet area soon and know you'll have a wonderful time here. We have great accomodations and businesses to take care of all your vacation wants and needs. We hope to see you soon. Great memories are made here!
Please visit our website or call or write for a brochure at 906-358-9961 (also where you'll get live snowmobile trail reports during sledding season) or e-mail visit@watersmeet.org.  Thank you.  See you soon….