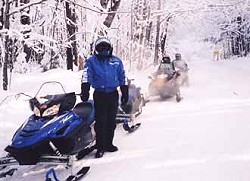 Hi Everyone ~
We are enjoying colder temperatures and the addition of several inches of snow.  Our U. P. Thunder Riders have been worked hard to get our trails back in shape after that unseasonable weather.  They are out there at least daily and are reporting all trails in at least good condition but most are very good or better.  Our snowmobilers are saying the same thing.  I was told yesterday by our snowmobilers that the Watersmeet trails were in the best condition of all the trails they traversed in the past five days.  A feather in the cap to the groomers and the club.
Trail 3 North:  All is at least good but watch for some icy spots
Trail 3 South to Wisconsin:  All is good there
Trail 2 East and West:  There were a few areas with a some rocks mixed in.  There are also some icy areas.  The trail is good otherwise.
Trail 13 South:  All is good but watch for two icy areas with caution signs.
Come on up and enjoy some great riding.  More snow and more cold are in the forecasts.  It's a super time to come up.  We have accommodations to meet the needs of everyone here.  Please check out our accommodations pages.  Snowmobile rentals and service are right here, too.  We would like to help make your trip the very best.  Thanks for checking out our website.  We hope to see you soon.