We attend at least two sport shows each year.  We hope you'll visit our knowledgeable staff when we come to your area.  They can help you plan your upcoming visit to our area and will be happy to answer all questions that you might have.  We invite you to visit our website atwww.watersmeet.org or call our chamber number, 906-358-9961, for more specific area information.  You can also e-mail us atvisit@watersmeet.org.
Bent's Camp Annual Radar Run & Chili Benefit for the Land O' Lakes' Frosty Snowmobile Club.  There were several classes based on the various engine sizes, and trophies were given for each class including a vintage class.  The drawing for the $6000 was held after the Radar Run.  Sledders were welcome to check the speed of their sleds.  Even though it was a really cold day and weekend, it was a great day!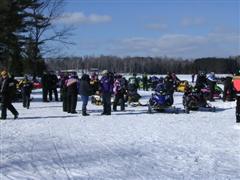 Thank you for visiting the
Watersmeet Chamber of Commerce website.
We hope you'll come and visit soon!